THE PHOTOBUBBLE COMPANY BRINGS INNOVATIVE PRODUCTION SOLUTIONS TO EUROPEAN SHOOTS
Unique production tool will exhibit at British Society of Cinematographers Show in March 2008Los Angeles, CA (Feb. 8, 2008) – For a Kia Motors shoot at Shepperton Studios, Hungry Man UK directing duo SamuelChristopher had an original, stylized plan to feature the hero car in a beautiful manner. In order to execute their ambitious plan, the team turned to The Photobubble Company to deploy their first Photobubble in the U.K.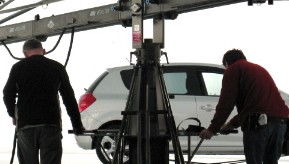 "I am extremely pleased to have been part of the Photobubble's first visit to the U.K.," says Chris Turner of directing duo SamuelChristopher. "It was the perfect environment to shoot our car idents in, and all at Hungry Man U.K., our clients at advertising agency Mustoes and the clients at Kia Motors were very impressed. The end results were great." Photobubbles are custom-made, inflatable structures that create a giant soft-box environment for reflection-free image capture. It allows for a virtually seamless 360-degree angle of view, making it an excellent and unique solution for challenging production situations. Portability, a variety of sizes and shapes and the capacity for multiple rig throughs for stunts or lighting make Photobubbles extremely flexible tools for filmmakers. The Photobubble is an excellent device for rear screen or green screen projects as well, providing a clean, controlled environment. Photobubbles are built on site, on stage or on location; pricing is determined by the size of the bubble, duration of the shoot and location.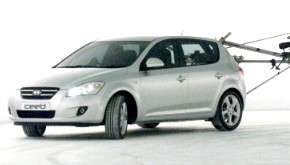 Award-winning director Roman Coppola conceived the idea for the Photobubble during the production of a Toyota Prius commercial. "We needed a car to be driving, at speed, in a completely white environment," says Coppola. "We struggled with this for a while, and it occurred to me that we could build an inflatable stage and illuminate it from the outside, so that it was a big glowing inflatable structure."Coppola shared his concept with production designer Stephen McHale and producer Allan Wachs. "It was Roman's idea. I said yes, and Steve made it happen," says Wachs. McHale brought in designer Tom Iacino to assist with the design process. Coppola, Wachs and McHale formed The Photobubble Company in 2004 in order to market the incredibly versatile and unique production tool. Iacino, who worked on the design of each bubble produced, was later added as a partner as well.While the Kia Motors shoot with Hungry Man U.K. is the first time this innovative production tool was used in the U.K., Photobubbles have been employed in shoots worldwide. "We've shot in Los Angeles, New York, Spain and Prague," says Wachs. According to Wachs, the shoot in Madrid, Spain for Gatorade, involved creating a 200-foot-by-200-foot Photobubble enclosing a half-size soccer field. A shoot for Buick involved the deployment of a 45-foot tall version of the Photobubble. "That was possibly the largest purely inflatable structure ever made," says Wachs. "It was the length of almost two football fields."Director Paula Walker used a Photobubble for a shoot in Prague for automotive company Mazda. "The Photobubble saved my life on the Mazda job," she says. "There was no way we could have moved as fast as we needed to without the flexibility of the Photobubble. I was able to save hours in lighting a complex shot with cars, effects, stunt work and dancers. I would love to use it again – there are so many possibilities."Walker's director of photography, Rolf Kestermann agrees. "It was a great experience working with the Photobubble," he says. "I loved what I could do with the light."As an infinite shooting environment for filmmakers' infinite imaginations, Photobubble is excited to bring their product to the British Society of Cinematographers Show in March 2008. "We are excited to meet with the production community in the U.K. and let them see the Photobubble up close," says Wachs. "It is a terrific tool with a huge variety of applications. We're looking forward to sharing our current products and announcing new ventures at the show."